May, 10, 2017
Ladies and gentlemen of the press, radio and television:
We all thank you kindly for your interest in this website.
I am putting up all the press releases that I prepare myself here in this section for your convenience. I hope it'll also help avoid fake news as much as possible.
Also important to bring to your attention at this time, is that mother is not giving any interviews and we can only be contacted in writing. All due to an overload of work that still needs to get done as soon as possible, as well as publishing her collection of poems, and of course her memoir. Not to mention other responsibilities and concerns as I'm sure you can imagine. Thank you for your understanding.
We look forward to hearing from you soon.
Sincerely,
Azalia Hormozi
___________________________________________________________________________
The following three press releases may only be reproduced in whole each with it's painting, anywhere in newspapers, magazines, radio, television and Internet.
___________________________________________________________________________
B R E A K I N G   N E W S
A r t   C o l l e c t i o n
FALLEN OFF SHIP ART COLLECTOR SURVIVED 40 YEARS AT BOTTOM OF OCEAN
COMING BACK UP WITH PURE GEMS SAYS. . . . . . V A M O S  A  L A  P L A Y A.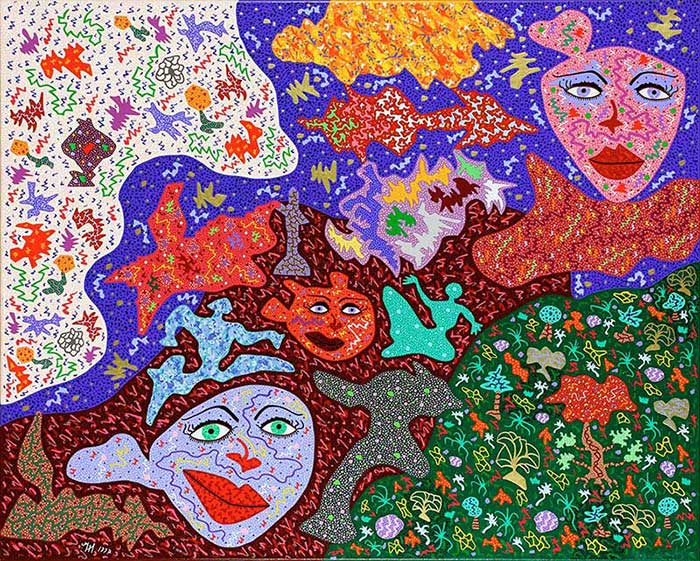 With a volume in only four words, "With his wife Pari,", ever said about Pari in the news media (By Philip H. Dougherty – A former New York Times Advertising Chief) – Pari has certainly been testimony to the saying, "Behind every ' fine ' man there is a ' special ' woman".
Always busy, always available, out of sight wherever problems have a way of multiplying when no one's watching. Pari, yet another great reminder for us all, of all the precious, loving, selfless women everywhere, without whose contributions and sacrifices, everyone's finest gifts go to waste – is worth writing about at least a thousand words. And if, "A picture is worth a thousand words", then it is no wonder that the painting above, here saying more than a thousand words about Pari, is created by Pari's own artist son.
Pari the mother, a great sacrificing mother. Pari the wife, simply a miracle in the lives of so many. Pari, the ever enduring, selfless Sherpa. Pari, a god sent co-concept developer. Pari, a full angel mentor.
As well as Pari Hormozi, a major art collector. Having a vision to share with her fellow collectors that's half done, half in the making. And they can find it right on the opening page of her own artist son's website (www.gh-hormozi.com).
___________________________________________________________________________
T h e   S i l e n t   I n t e r n e t  D i v i d e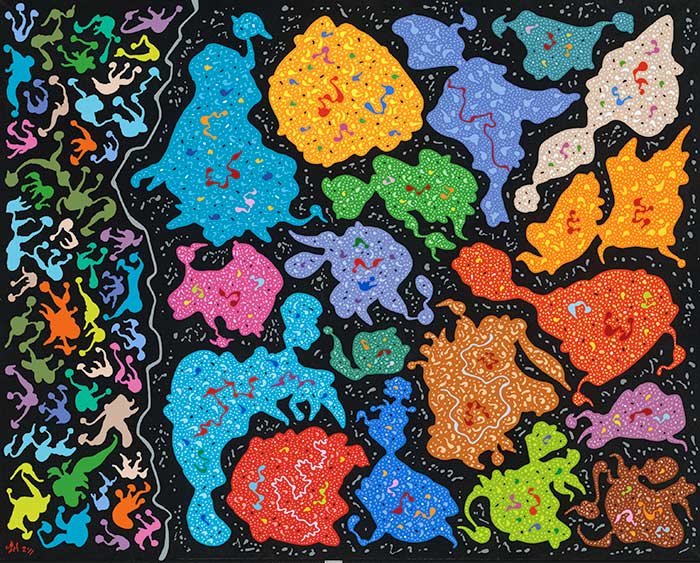 Put your hand on the right side of the painting above. It's like lots of potential colorful little things floating in a beautiful stream in the evening – that each may at any time get stuck in the mud, or at best pour into a pond, that's going nowhere.
Now put your hand on the left side of the divide. It's like none need to go anywhere, anymore. Like all have finally reached the ocean, and are already together enjoying a prosperous life near a nice beach called home, sweet home. . . . . . . . . . . . . . . . . . . . . . . . . . . . . . . . . . . . page?
Home, sweet home page?
Home page! Of a website! As on the Internet!
Yes it seems as with the rich and poor in the real world, the world of Internet has been following suit as well. And just as 1% of the population enjoys 99% of all there is to share in the real world. There are also only a very small number of websites on the Internet that get all the attention. There is certainly a silent divide here. The silent Internet divide, slowly creeping up to the real world levels.
Maybe nobody's fault. However obviously it's always nice whenever something can be done to improve the majority's share. Especially when it takes nothing away from any other group.
The following is simply a helping hand in a small way. Which may even end up helping give a better flow to the whole giant parallel world of Internet. . . . . . and everyone who lives part time in it.
There are far too many credible, yet totally out of sight websites on the Internet. And luckily there are a lot of credible, yet not or no longer in the spotlight people who have a certain weight in their respective fields, but don't want the hassles of having their own websites.
The second group can easily become guests of honor on the first group's websites simply by having a page with them. And by adding their higher credibility they would be helping the credible, yet out of sight websites to begin getting the recognition they deserve. At the same time as reaping all the benefits of having their own websites without the hassles.
Of course there are just as many if not more people, especially mentors who would be willing to let their precious presence help someone that they appreciate their work and efforts, without considering any personal gains. Like on the fine artist, Ghari Hormozi's website (www.gh-hormozi.com), from where as well the above painting has come in handy here for this kind of open-ended suggestion.
___________________________________________________________________________
SOLVE VISUAL RIDDLE TO WIN FINE ART PAINTING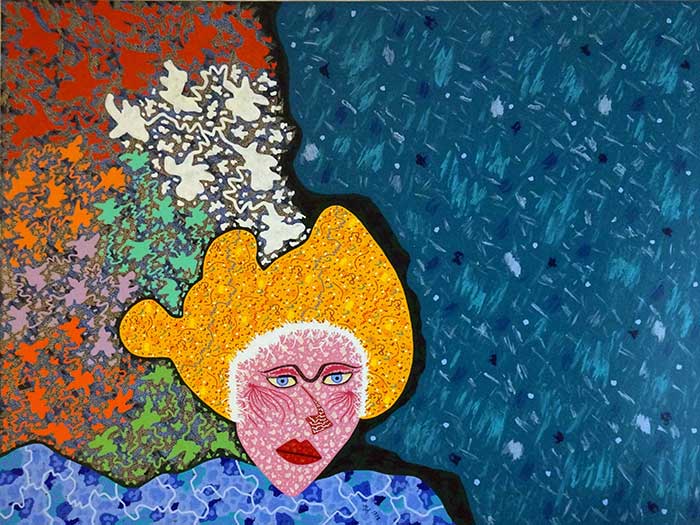 Azalia Hormozi, a fine artist's manager has put up a thought provoking, multilayered visual riddle on the website to be solved for a fine art painting:
FIND THE MOST HIDDEN, OUT OF SIGHT INTERPRETATION OF THE PAINTING ABOVE, BEHIND AND BEYOND ALL THAT'S OBVIOUS (PAYING ATTENTION TO EVERY SINGLE WORD).
You can send your replies to Azalia Hormozi (azalia.hormozi@gh-hormozi.com ), and the deadline will soon be announced on the website. She says, "There is also a higher purpose involved here for this visual riddle to appear at this time which will be shared with everyone at a later date.".
"The above painting cannot be moved due to damage to the work. Therefore, and also because of a sentimental value to the artist's family and friends, it is not for sale. However, over the course of the last fifteen years since it's completion (always on the same wall behind where mother sits), it has never stopped baffling the viewers as to the mystery behind and beyond it's seeming simplicity.".
___________________________________________________________________________
Copyright ©2001-2017, gh-hormozi.com, all rights reserved. Any reproductions, use, total or partial of the elements of this website is strictly prohibited.