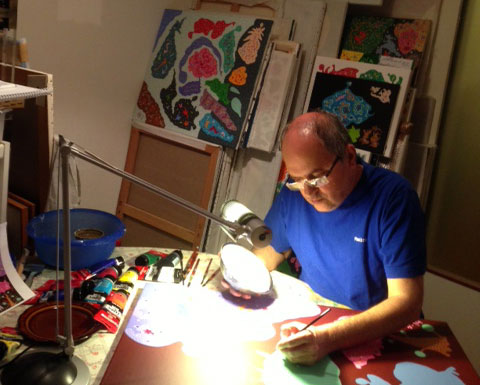 GHARI HORMOZI has been working as a painter for over thirty years, a profession he really loves, deeply.
Painting is his main passion and sculpture is his hobby  and it is with great pleasure that he offers to discover it through this site, a site that brings together the fruit of a long work carried out with passion and conviction.
Immerse yourself in it; soak up its imagination, its dreams from where it draws all its inspiration. Ghari Hormozi does not refer to any current or artistic style in particular; He simply leaves the possible multiples of his unconscious.
His galloping imagination opens up new worlds, new sensations, and the pleasure of a colorful harmony, serene. Let yourself be won over by the attraction of beauty, the one that makes our lives happier, the one that radiates all its splendor in the works of the artist.
Through this site, Ghari Hormozi hopes to bring to every visitor as much pleasure by his works as he has experienced to realize them, to look at them and to love them.
« Texts written by Aymeric Woirin »
Copyright ©2001-2017, gh-hormozi.com, all rights reserved. Any reproductions, use, total or partial of the elements of this website is strictly prohibited.